H O L I S T I C H E A L T H C A R E
Overview
The Samsthan aims at providing holistic health care services by providing cost-effective and quality medical facilities through modern allopathic medicine and simultaneously promoting such proven systems like homeopathy, Bach Floral remedies, herbal medicines and naturopathy.
The above health care alternatives are gentle and in tune with nature, and go a long way in providing long term health care, at an easily affordable cost to an individual.
Samsthan takes up health education and nutrition supplementation and nutrition advice to rural population in addition to providing curative health services to rural areas.
Rural General Hospital
The general body meeting of Sahaj Seva Samsthan held on 25-Apr-2008 has passed a resolution to start a 100 bed general hospital near Kanukunta, Medak District where our medical camp is being held regularly for the last four years.
The land of about one acre for the above proposed hospital has kindly been donated by Br. S. Nagesh.
Initial plans and drawings for the proposed project are underway.
The Samsthan is providing Health care services by the following ways:
Mahatma Sri Ramchandra Centenary Memorial Hospital
A Hospital by the name of "Mahatma Sri Ramchandra Centenary Memorial Hospital" is running since May 1999. The objective of the hospital is to Provide Modern Medicare Services at an affordable cost to the common man.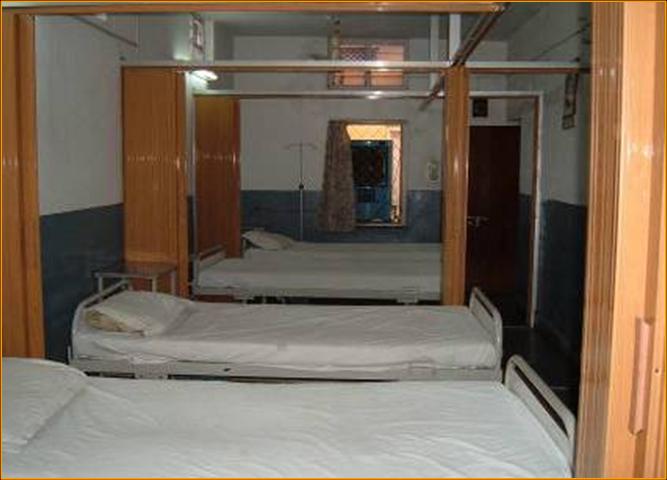 Adopted Kanukunta Village
The Samsthan has adopted a village, Kanukunta, with a population of 8,000 people for providing health and medical services.
The following doctors are involved in attending medical camp.
Dr. M. Janardhan Reddy
Dr. K. Madhava
Dr. Vanitha
Dr. N.B.T. Sundari
Dr. Ratna Surya (Homeopathic Doctor)
Dr. Krishna Yaji
Dr. Vijaya Kumar (Ayurvedic Doctor)
In the beginning 80 patients used to avail the facility per visit. During the last few months the number of patients availing the facility has gone up to 150 per visit. People from surrounding villages like Nutankal, Dabilpur, Medchal, Gummadidala, Narsapur visit Kanukunta to avail this facility.
The geriatric age group of patients of Kanukunta who suffer from Diabetes and Hypertension and who are irregular and negligent about taking their medication are provided monthly supply of drugs including insulin injections for their regular treatment of diabetes and hypertension. Blood-sugars are being tested by Glucometer as and when required. All the patients are tested for urine-sugar.
During the camp, patients are given free medicines
The expenses of the supply of these regular medications are borne by the Samsthan.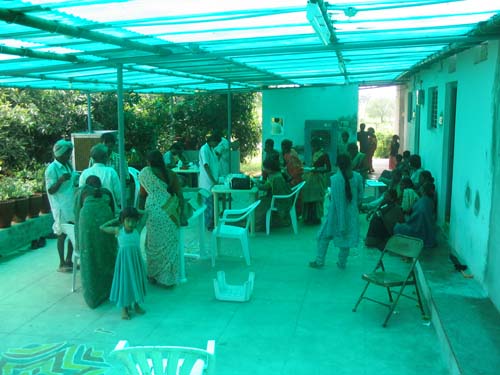 Participation in Immunization and Pulse Polio
Samsthan, through the Hospital, is actively participating in the National Immunization Programme and Pulse Polio.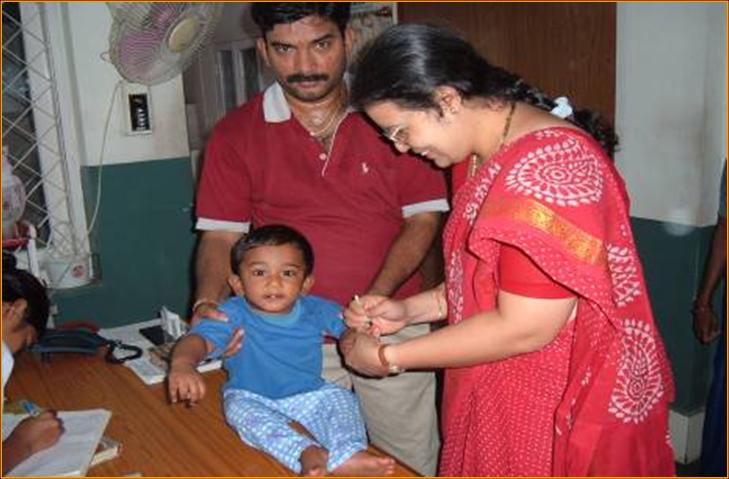 Facilities
MSRCM Hospital has the below listed facilities

Laparoscopic Surgery
Gen. Surgery
Surgical Oncology

General Medicine
Gynecology
Pediatrics
E.N.T.

Laboratory
ECG
Portable X-ray
Operation Video Clips
Videos of the operations conducted in the Hospital are added below. As the video file size is very big, each video has been split into logical parts. The file size of each part is shown in brackets. Please click on the link to open the video in another window. Please open the below files in Windows Media Player, if it does not automatically start playing, after clicking.
Consultants
Please find the consultants and their available timings below:
Doctor's Timings

Doctor

Mon

Tue

Wed

Thu

Fri

Sat

Dr. K. Madhava

MS, MF(HOM) (Lon)

18:00 - 20:00

18:00 - 20:00

NA

18:00 - 20:00

18:00 - 20:00

NA

Dr. V. Krishna Yaji

MD (Gen Med)

9:00 - 13:00 and 18:00 - 20:00

Dr. NBT. Sundari

MBBS, ABP(USA)

10:30 - 13:30

NA

Dr. M. Seetha Devi

MBBS, DGO

NA

NA

10:00 - 11:00

NA

10:00 - 11:00

NA
Doctors on Appointment

Please call +91(40)-23341380 to request for an appointment.

Name of the Doctor

Specialization

Surgical Oncologist

Dr. M.Janardhan Reddy MBBS, FCCP, FCGP

General practice
Orthopedics

Dr. Jyothi Ramakrishna MS (ENT) (AIIMS)

ENT Specialist
Unique Features
MSRCM Hospital breathes a spiritual ambience experienced by the visitors/ patients is something to be personally experienced.
This is the place where the patient is treated in all the three planes:
Physical - by medicine and surgery
Vital - by empathetic and symapthetic interaction by competent staff.
spiritual - by making the Master's literature and His talks available and giving positive suggestions for their speedy recovery
Personal interaction with each patient is maintained by the doctors of the hospital, who are serious practicants of the System of P.A.M, and an effort is made to enable the patients feel that they are brethren and it is a privilege for the staff to be of service. They are made aware about the possibilities of leading a spiritual way of life as taught by the Great Master and about the simplicity of His method of P.A.M.
Patients are given:
Sahaj Shakti biscuits - for nutrition and memory enhancement

Wheat grass juice - for improvement of immunity and general health

Audio tapes and Books related to P.A.M - for mental health
Sincere attempt is made to make them feel at ease and that they have the Blessings of the Master.
Prayer hall is made available to all the patients and attendants in the hospital premises.
Nursing services are Free In line with the philosophy of the hospital.
Quality surgical services are provided at reasonable cost by expert surgeons of eminence in their own fields.
Achievements
Following are the beneficiaries of the services rendered by the Hospital:
Year
Admissions
Out Patients
Vaccine
No of Patients at Medical Camp
1999
56

NA

NA

NA

2000
33
855
187
NA
2001
133
1747
207
NA
2002
185
2782
256
NA
2003
186
3192
353
NA
2004
124
4634
484
1054
2005
108
5933
446
1151
2006
100
8310
501
767
2007
160
10187
449
1605
2008
151
9968
601
1394
2009
206
10903
353
2363
NA: Data not available
Patient's Feedback
Feedback from the Patients
I liked everything in this hospital. I liked the treatment of all the nurses and doctors. I liked the head of this hospital: "Sri Ramchandra". Thank you - Nitin Patel - (june-2007)

Staff are very helpful, co-operative and doing service with smile - P Jayashree - (20-apr-08)

My name is C.N.Murty, s/o C.A.N. Sastry who is operated on 30/5/03. I came along with my father for assistance. A pleasant and peaceful atmosphere located in this hospital. The doctors and staff who are working here, very affectionate with the patients so that a type of mental courage will be formed in patients. The staff talk with patients and their relatives with affection. I felt very happy to come to your hospital. Your commandments create a positive thinking in all our minds. -- C.N.MURTY – (30-5-03)
I want to thank the doctors, staff nurses sisters for their full whole hearted dedicated service which made me feel at home. Frequent regular cleaning of floors, toilets changing of beds and keeping the hospital like started is astonished me. Sisters and the staff never slept in the night duty and periodically frequently visiting me to check any assistance required by me. I thank once again all staff from boy to doctors and for their full dedication and services provided. -- RAVINDRA KRISHNA .T - ( 8-6-03)
To every one,

The atmosphere here is not a hospital atmosphere but it is a homely atmosphere. I have to be thankful to the staff for taking more care. Cleanliness, service are very good here. We can earn money to- day or tomorrow. But you cannot get peacefulness whenever you want.

That peacefulness is found more here. The tensions and other worries can eliminated here. Only the almighty the guru Maharaj can be seen here with good climate and good people.

The treatment of the doctors is very friendly and respectable. The way of asking is like your elders calling or saying to you.

No fixed formalities are not seen here between a patient and a doctor.

This is my second surgery under Dr. Madhava and I am very happy with him.
AJAY - ( 7-7-03)
I am completely satisfied with the facilities the atmosphere is very homely. The staff is very good. They are very cooperative. They used to talk very nicely, encouraging with good words. Also they used to attend at very odd times. On the whole everything is nice. -- MURALI – ( 23-7-03)
I was very much impressed the way of the treatment given by sisters and other hospital staff. I felt that it is looking like a small mandir. It is very clean and the neat hospital and the way of staff behavior also very good. I never forgotten Dr. Madhava and his staff. I wish that the hospital will serve number of poor people -- G. BHAGEERADH
I am K.Venugopal working as AGM in private contruction Co., suddenly I was advised to go laproscopic operation to remove gallbladder stones. As soon as I entered this temple(Hospital) I felt very much tension free also I have prayed for 15 minutes in the morning. But to my surprise once I was scared to take an injection but the operation was totally tensionfree. The doctors/ sisters are all very affectionate. Thank God. Thanks to Guruji. " This building is more of a temple than hospital". -- K Venugopal, +(91)-9392104501